Presents
Bigor

Sire:
Ariuizi
Dam: Lisa

July 13, 2005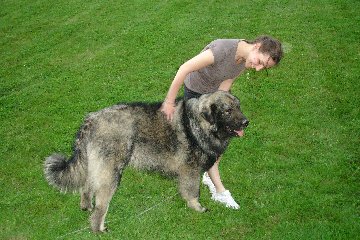 Bigor
Crossing the Rainbow
February 25, 2015
Almost 10 years ago to the day I picked out and brought home a beautiful ball of fur, my first Sarplaninatz Bigor. Searching for a long time for the foundation for my kennels I was taken by this pups eyes, demeanor and presence at 10 weeks old. When he was 9 months old he got into some painting powder in a garage and it was also a rainy day; and when I came home from work my friend Aggie and I could not believe what we were seeing…..a fluffy pink dog!
 Over the years he brought joy, laughter, stability beautiful puppies,and unchallenging protection for me. He taught me about the sarplaninatz breed, and almost everything I needed to know. His wisdom, balance and steadiness made him the most majestic of dogs and set a high standard to follow. He was not one to seek affection but enjoyed it when given, he loved laying by the fireplace or laying under a mound of snow. Ever protective of his pack, he was a monogamous dog, devoted to his Arusha and they made many spectacular pups together. He was not to proud to follow my lead and I his, we shared leadership. Bigor was never sick a day in his life, so when he was taken so suddenly I was left numb, breathless, and crashing. He never let on he was sick, if even for the couple short weeks he was ill. Stoic is often used to describe these kinds of dogs, who never show distress, but I would call it dignity. He was distinguished and held his head high, never complaining…when I say he taught me a lot, he did, as given my circumstances overseas, I hold my head high, never complain and always act with dignity…this I learned from my beloved Bigor. I also want to thank my husband Tom, for standing in, in my absence, and doing his very best to assure Bigor left this world with that dignity he displayed and deserved.
Achievements:
Bigor is the leader of the pack (second only to me of course) and is unquestioned in his role, which he takes very seriously. Yet, he is gentle and seeks out affection once he has surveyed his surroundings and assured himself everything is as it should be. He is representative of this ancient breed and comes from Adi Petla's lineage.  He is regitered with the UKC and ARBA.  Bigor has a beautiful mane and is very regal in his carriage.  His temperament is exceptional and everything a Sar should be in character, instinct, and guardianship.  He was a proven sire.